Grand Cayman is home to so many picturesque and unique places to visit, in addition to its world-famous Seven Mile Beach. There are parts of the island to explore where you can learn about Cayman's heritage and history, other beaches of exquisite beauty in less populated areas, and one of Mother Nature's most exciting "fountains"?
Below are some of the top places to visit in Grand Cayman, when touring the island:
South Sound
While the island is known for its serene white-sand beaches, vacationers might want to choose a lesser-known beach at South Sound, on a Grand Cayman sightseeing excursion. Choose a spot and soak in the scenery of this area with its swaying palms and – if you time is right – a few surf-worthy waves.
Pedro St. James (also known as Pedro's Castle)
Discover the Cayman of the 18 th century and learn about its history and culture at Pedro St. James. The Cayman government restored this house, which was built in 1780 by a wealthy Englishman. Stroll through this intriguing castle, considered to have undergone the most extensive restoration project in Cayman's history, view its antique furniture and splendid artifacts. It sits on 7 acres, which include lush gardens, and it is designated as a national historic site on the island. A mere 20- minute drive from George Town, it's a place you'll enjoy on your tour.
Blow Holes
Blow holes are a marvel of nature that never fails to attract tourists and locals alike. You'll see them along a particular beach on Grand Cayman's East End, a perfect escape featuring a majestic "show"? you'll never tire of. Ocean waves roll in and shoot up through underwater caverns like a natural geyser. Make sure you check out this natural phenomenon on your Grand Cayman land tour.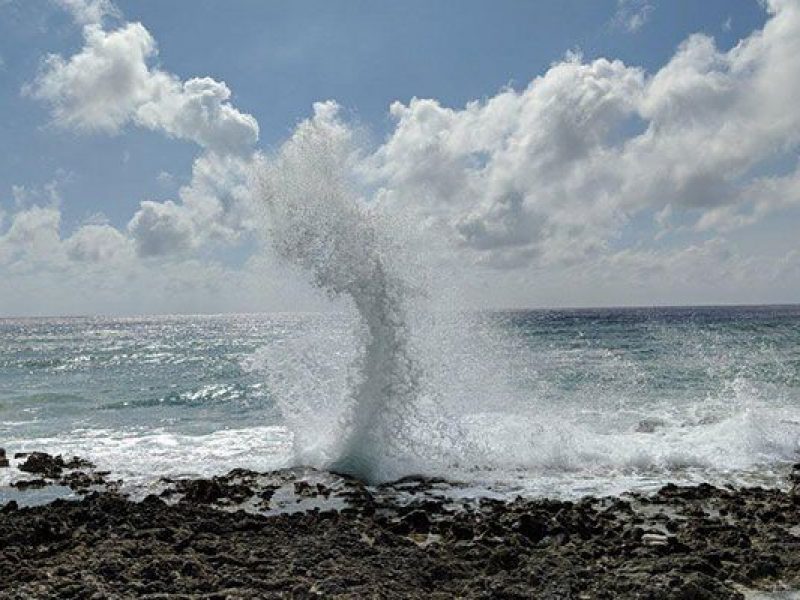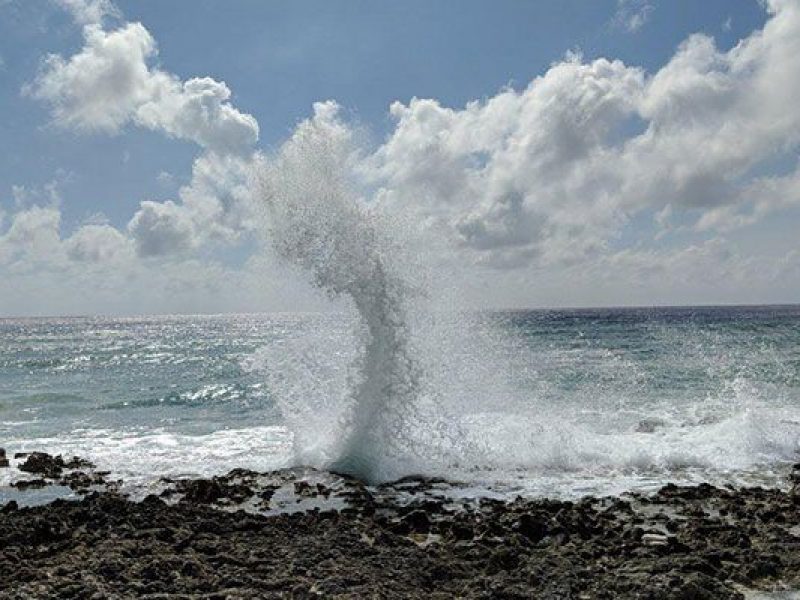 Grand Cayman Blow Holes
Queen Elizabeth II Monument
Queen Elizabeth II Monument is among the many attractions at the Queen Elizabeth II Botanic Park. It is made of stone from a local quarry, embellished with fossil shells and framed by Silver Thatch palms, the national tree. Its fronds are the botanic park's logo. Queen Elizabeth II opened Grand Cayman's Botanic Park in 1994.
Rum Point
Rum Point is a laid-back beach around a cove of azure water, with a boardwalk across the water to a boat dock. Hammocks to relax in are strung from trees in a large shady area, there are lots of picnic tables and a restaurant with great beachside food and drinks, and there are a multitude of many water sports to choose from. For an amazing adventure and a pleasant tropical ambience. With so many activities to do, Rum Point makes an idyllic spot for families as well. It's an ideal spot for families, with a protected swimming cove, and the perfect place to soak up the ambience and just relax.
There are so many spectacular places to visit in Grand Cayman, and the best way to see them is on a relaxing tour with your comfort and safety in mind. Explore your options and reserve your excursion soon!